UNDERSTANDING THE ARTS AT KAIPARA COLLEGE
---
UNDERSTAND OUR TAKE ON THE ARTS
Kaipara College celebrates its ability to offer every student a balanced experience where they can enjoy academic, sporting, artistic and cultural success. Although a moderately sized school, we are recognised as a high performer in the arts communities.
Involvement in the arts beyond the classroom creates a sense of ownership, family, encourages innovation, embraces diversity, speaks without words, builds confidence, strives for personal excellence and develops lifelong soundtracks and memories.
Our growth kaupapa is simple, 'move the mountain to the students'. We have made the deliberate choice to focus in on genres that the students are collectively more interested in at this time. We take calculated risks with our production choices and encourage diversity and innovation through our visual arts. As examples of this, our productions are contemporary and address our diverse world, our music is often loud and electric or very personal and our visual art portrays messages to our community.
The arts are directed through student agency which each aspect having their own Captain and council.

ARTS UPDATES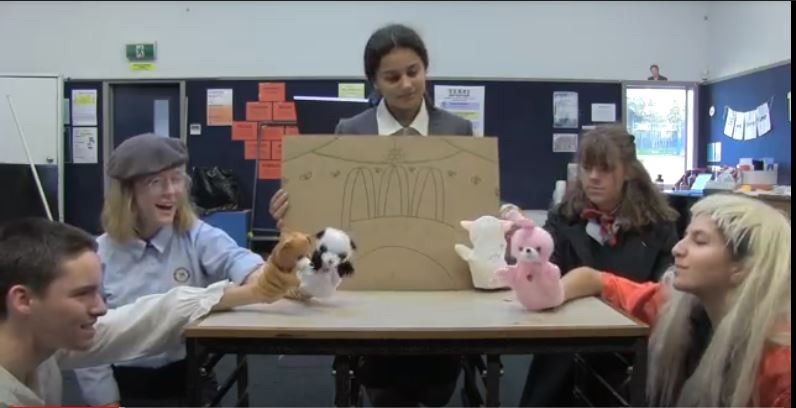 Kaipara Drama Selected for the Sheilah Winn Shakespeare national final
We received this, from the Sheilah Winn Shakespeare competition: 'Congratulations! Your scene has been chosen as the 15 Minute Scene from the Auckland West Festival to progress to the National Shakespeare Festival.'
This means the scene will be shown against all the regional finalists and for the top industry professional judges. Our students will also be in the running for the National Shakespeare Production in Wellington and to perform at the Globe Theatre in London.
Please click on the link below to see the video of Kaipara College entry for the Sheilah Winn.
Emma Painton wins place in 2020 Who Loves Who Competition
Year 12 Musician Emma Painton has been recognised by PlayItStrange for her winning arrangement of Kora's epic song 'Burning'. The Who Loves Who competition encourages secondary musicians to take a kiwi song they love and make it there own, well Emma certainly did that with the laid back ukelele and chilled out backing vocals. Congratulations Emma.