---
THE SCHOOL DAY
The Kaipara College school day commences at 8:45 AM and concludes at 3:00 PM.
STUDENT DEVICES
BYOD at Kaipara College
Being a smaller, semi-rural school, we need to bring the world to our school and provide connectivity with worldwide culture, social, and political information. Devices have been shown to improve student engagement when coupled with effective teacher pedagogy. Students need to leave school digitally fluent if they are to operate effectively in the workplace in the 21st Century and the vast majority of students already bring a device (e.g. laptop) to school for use in class.
BYOD is compulsory for all students.
Broad Guidelines
Years 9 and 10: A chromebook device is perfectly adequate, moderately priced, easy to use and has very few software costs. It has no on-board software and will have limited use if WiFi is not available. Everything is stored in the cloud.
Years 11, 12 and 13: Any device that meets the above specifications is useful. Senior students continuing to university or further study should consider moving up to a laptop.
Day Loan of School Devices: The School had a small number of devices available for day loan when a student's device is being repaired, replaced or unavailable for another short-term reason. Caregivers need to complete the form below prior to the student requesting a device be issued to them. No device will be issued without the completion of this form.
Request for day loan of a device
User Agreements
Each student who wishes to have a device at school must have signed a Digital Citizenship Agreement. Enforcement of the rules of Digital Citizenship will be strict.
Device Specifications
Screen Size: At least 17cms / 7 inches, 25cms is preferred and recommended
Keyboard: An onscreen keyboard or a separate keyboard. An onscreen keyboard should not take up more than half the screen
Ports: At least one USB
Operating System: Windows XP, Vista, 7 & 8, Apple mac OS X 10.6 or better, Android 2.1 or better
Anti-Viral Software: Must Have
WiFi: Must Have: No direct connection to the school system is permitted
Battery Life: 6 hours or more
Google: The device must be able to access Google Drive and Google apps for education
Protection: Each device should have a protective cover or case
Security
The school will NOT accept any liability for the security of devices at school. Devices are at school entirely at the student's risk. We have device lockers available for students to rent at $10 per term. Payment and keys are available from the Student Centre.
Seizure of Devices
Under the Education Act, the College has the power to seize and search any device if the school suspects there is material that is inappropriate, dangerous or harmful to any student or the learning environment.
Mobile Phones
Students may bring mobile phones to school and they may be used during class time as a learning tool, at the teacher's discretion. When not in use, they must be in the student's bag. Students who do not follow this policy will have their phones confiscated and returned to them at the end of the school day.
Parents and whanau can support this by not calling or messaging the students during the school day. If you need an URGENT message given to a student, you can contact the school Student Centre on 09 420 8640 ext 810.
SCHOOL UNIFORM
Kaipara College is a uniform school.
Parents are asked to ensure that their children wear correct school uniform. In rare circumstances, where students may not be able to wear a uniform item, parents should write a note to the school explaining the circumstances and the school will issue a permit which is only available from the Deans Office. The school reserves the right to require students who are not in correct uniform to wear loan items of uniform while at school.
The school will not grant permission for students to wear non-uniform items on an extended basis, unless approval has been given by the Deputy Principal in charge of uniform or the Principal. Permission will only be granted in medical circumstances where there is appropriate medical documentation provided. The Kaipara College uniform list is as follows:
Kaipara Trousers - pleated or elastic waist
Kaipara Shorts
Kaipara Skirt - mid length and long
Kaipara Shirt (long and short sleeve)
Kaipara Blouse (long and short sleeve)
Kaipara Ribbed Jersey
Kaipara Hoody
Kaipara Jacket
Kaipara Cap, Beanie, Bucket Hat (not to be worn in class)
Kaipara Tie
Black Socks or Black Tights
Kaipara College Junior PE Uniform – blue shorts and navy/red top (compulsory for Years 9 & 10)
Plain flat-soled, totally black LACE UP shoes (no ankle boots/high tops)
Also available: Kaipara Supporters Jackets, Kaipara Scarves
Uniform Code
Some extra notes and guidelines on our uniform and personal grooming:
Only school sanctioned items (listed above) are to be worn as part of the uniform.
Year 13 students are permitted to wear 'Number Ones'. That is a matching navy coloured suit set (pants/skirt) with white blouse/shirt.
Extremes in personal presentation or adornment that might be considered incompatible with our uniform standards, or is considered a safety issue, is at the discretion of the principal.
Under garments (eg. thermals) are allowed to be worn, but must not be visible.
When wearing the school hoodies the 'hood' must be down at all times. The school shirt or blouse must be worn under the hoodie. Students can wear either the school hoodie or one of the school sanctioned sports' hoodies.
During Terms 2 and 3, students may wear plain navy blue or plain black waterproof jackets to and from school and during break times. Rain jackets are not to be worn during lessons. Puffer jackets are NOT permitted.
Skirts are to be worn at knee length.
One small nose stud is permitted.
Small studs in pierced ears are acceptable. Only small and round ear stretches are permitted. Sleepers are NOT permitted.
Where to buy
The School Uniform Shoppe has a shop onsite at Kaipara College where uniform items can be purchased and ordered.

The shop hours are:
Monday 8:00 - 9:00am (before school)
Wednesday 3:00 - 4:30pm (after school)
Tuesday & Thursday 1:15pm - 2:00pm (school lunchtime)
The uniform shop is located near the school reception. Uniforms can also be purchased online at www.theuniformshoppe.co.nz and collected from the on site shop although visiting the uniform shop for a fitting first, is recommended.
Methods of Payment
There are several options for making any payments to Kaipara College. If a payment is being made manually, this can be done by visiting the Student Centre in the main Administration building, between 8:00am and 4:30pm, Monday to Friday. Cash and EFTPOS payments are accepted.
For electronic payments, please use the following account:
Kaipara College 12-3139-0002717-00
Please ensure you include your student's name and the activity, event or other purpose of the payment.
Financial Assistance
If you require financial assistance from Work and Income for stationery requirements or uniform costs for the following year, please make an appointment with Work and Income by calling 0800 559 009 prior to the start of Term 1, to avoid delays.
SCHOOL BUS TRANSPORT
The Ministry of Education provides school transport assistance to help parents overcome barriers to education and meet their responsibility to get their children to school. The Ministry may provide assistance where distance and/or accessibility may be a barrier for students attending the closest school they can enrol at. School transport assistance is usually a place on a school bus and school bus transport in the Kaipara area is provided by Ritchies Transport.
Eligibility
Students must meet all three eligibility criteria in order to access school transport assistance. Having met the Ministry's eligibility criteria, students are eligible for one school bus route only, that which directly services the student's residential address. Students are not able to swap between school bus routes based on convenience or to travel to alternative locations.
Criteria 1
The school must be the closest state or state integrated school the student can enrol at.
Criteria 2
Students in years 9-13 must live at least 4.8 kilometres from the school, over the shortest public road or pedestrian route from home roadside gate to the school's front gate.
Criteria 3
There must be no suitable public transport options.
"Suitable" public transport must travel within:
2.4 kilometres of the roadside gate of the student's home, and
2.4 kilometres of the closest appropriate school.
The student:
won't have to be picked up before 7am
can get to school before it starts
can be picked up no later than 1 hour after school finishes
won't have to change buses more than once on a journey
Travel on School Buses
Students travelling on school buses are under the authority of Kaipara College.
At all times, students are required to follow, without question, the directions of the bus driver.
The school and the business operating the service have the right to remove travel on school buses from any student who misbehaves or puts themselves or others in danger through unsafe behaviour.
If a student is removed from the school buses, then it will be the family's responsibility to transport the student to and from school.
The student will also NOT be permitted to board any chartered buses for the period set. This includes exclusion from school trips due to inappropriate or unsafe behaviour.
All parents and caregivers are required to agreed to the following school bus contract as part of their student's enrolment process.
School bus contract
This contract is between Ritchies Transport Holdings Ltd ('bus company') and the student and the parent or caregiver and Kaipara College ('School').
PURPOSE
A. The purpose of this contract is to keep students safe and to facilitate and efficient School bus service by Kaipara Transport Network. Parents/Caregivers and students should ensure they have read and understood this document, which is to be adhered to for the safety of the bus driver, all students travelling on the bus and other road users.
B. The parties have agreed to enter into this Agreement so that there is clarity around the respective roles and responsibilities of the School, Ritchies Transport Holdings Ltd, parent/caregivers of students using the School bus service and students using the School bus service.
Before signifying that you agree to this contract, please ensure your child reads this agreement or read it aloud to them. Please discuss it with them to ensure they understand what is expected of them. The student will be required to sign this agreement during Year 9 'O' Week.
Guidelines to be safe when using a School bus
- Sit down straight away and remain seated for the whole journey.
- If they are standing, they will stand behind the driver, where the driver tells them to stand, stand quietly and push or move around the bus.
- Not throw objects inside or out of the bus.
- Not poke their arms, legs, or head out of the bus window.
- Not eat or drink on the bus.
- Follow the School rules and treat both the bus and everyone on it with respect.
- Listen to the requirements and instructions from the bus driver and duty teacher at all times.
- Not do anything that could put other passengers, the driver, themselves, or other road users at risk.
- Speak at a volume and in a way that does not distract the driver.
- Only travel on the bus they are entitled to be on.
- Wait in the designated place for the bus, or in a clear zone (with no hazards like power poles, trains or trees), off the sealed road and well back from the road.
- Carry their bag in front of them as they get on and off the bus.
- Sit with their bag on their lap when they are on the bus.
- Wait until the bus has stopped and the door is open before moving to get on.
- Wait until the bus has stopped and the door is open before standing to get off the bus.
- Wait well away from the bus after getting off until the bus has moved away.
- Cross the road in a safe place after the bus has moved away.
- Cross the road in a safe place after the bus has moved away and when they can see clearly up and down the road.
I have read and understood this agreement, I have had the opportunity to take independent advice, and have had the opportunity to ask questions.
I/We agree with the School and with Ritchies Transport Holdings Ltd that I will:
- Advise the School of any permanent changes to my child's bus travel arrangements in writing prior to the change or if not possible, as soon as possible afterwards.
- Ensure my child waits for the bus in a safe place, away from the road, at least 5 minutes before the bus is due.
- Teach my child about safe behaviour on and around buses and crossing the road.
When terms and conditions are broken by me or my child: If a student does not follow the bus terms and conditions he/she/they may be subject
- to disciplinary action, which may include a verbal or written warning, being removed from the School bus for a period of time or permanently.
- Any damage to the property of Ritchies Bus Transport may result in an invoice to the parents/caregivers to cover associated costs.
Kaipara College School Bus Routes
On enrolment, students will be assigned bus routes, based on their primary residential address.
The Riverhead 5563 route is a direct resourced route which means that it services students who are out of zone and not eligible for school bus transport and the bus is paid for by families. Clip tickets for this route are purchased at the Kaipara College Student Services Centre and cost $30 for 10 trips.
On the first morning of the school year, any students in Kaipara College uniform will be picked up by the Ritchies Transport school buses which travel the routes identified over the page, whether students are standing at a designated stop or not. After school on the first day, students are assisted to their correct buses by staff.
Late or Delayed Buses
Please make sure you are at your bus stop at least five minutes before the expected arrival time of your bus. Breakdowns and delays are rare, but they can happen. Ritchies Transport advise the College as soon as they can.
If you are concerned about the late arrival of a bus, or have any questions about school bus services or eligibility please contact the school in the first instance.
STAYING IN CONTACT
Keeping parents and caregivers and our wider school community is extremely important to us and there are a number of ways we do that. As much as possible we will stay in touch with you electronically. Your student's mentor, dean or teacher may contact you directly and the school will send out emails and other information to the details we have on file for you. It is vital that you advise us if your contact details change for any reason, whether you change addresses or update your mobile number or email address. You can send new or updated contact information to [email protected] at any time.
School Apps
School Apps is a simple, effective and convenient mobile app for communication between school, students and whanau. You can receive school notifications directly to your phone, let us know if your child is going to be absent, access the parent portal, daily notices and the school calendar, as well as contact staff directly.
There are three easy steps to access School Apps:
Select Kaipara College as your school

Choose the alerts you would like to receive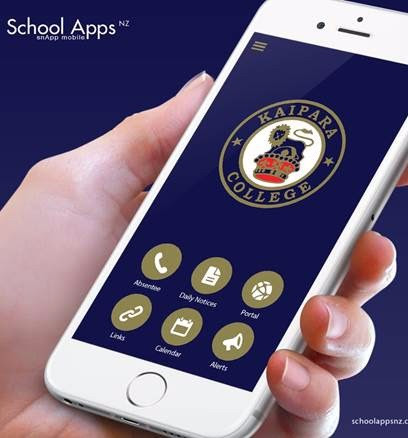 School Website
On our site you will find useful information from across the school as well as contact details, access to the parent portal and information for parents of senior students on senior course selection.
Parent Portal
Real time information about the College, your child's progress and the school's daily notices as well as electronic permission slips can all be located through the parent portal, accessed via the school website. It is our way to communicate immediate and accurate information home.
Parents and caregivers will be issued with a logon and password to the portal. These will be made available to all new parents at the start of the 2021 school year.
Social Media
We utilise Facebook extensively as well as Instagram to communicate with our school community about events, successes and important details about day to day school life.
Kaipara College Facebook page (designed for family, whanau and community)
Kaipara College Instagram page (designed for students)
Information about upcoming events, successes and important details may be also accessed through our Kaipara College Friends of the College FaceBook page. Past students and families are encouraged to join this page as we build up our Alumni, develop the college PTSA and move towards our centennial celebrations in 2024.
Kaipara College Friends of the College Facebook page (Parent Teacher Student Association)
There are also a number of Kaipara College sports, cultural and other extra-curricula activities that communicate through Facebook. Just search Kaipara College in your Facebook search bar.
2023 DEANS
Please feel free to make contact with our year Deans at any time.