Read here to find out the latest information and updates from Kaipara College to our families, whanau and community.
Tuesday 31 March, 2020
Kia ora everyone and we hope you are settling into routines with those in your bubble. Below is the PRIDE Bingo challenge for Kaipara College students. Other whanau members are welcome to attempt this as well.
Simply complete each task over the next few weeks and tick off on your sheet. It's that easy and we think it will be a whole lot of fun.
How about take the challenge just a little further and video yourself completing each task? We may even put your videoette onto the school FaceBook page. If you would like to do this then send your videos to [email protected]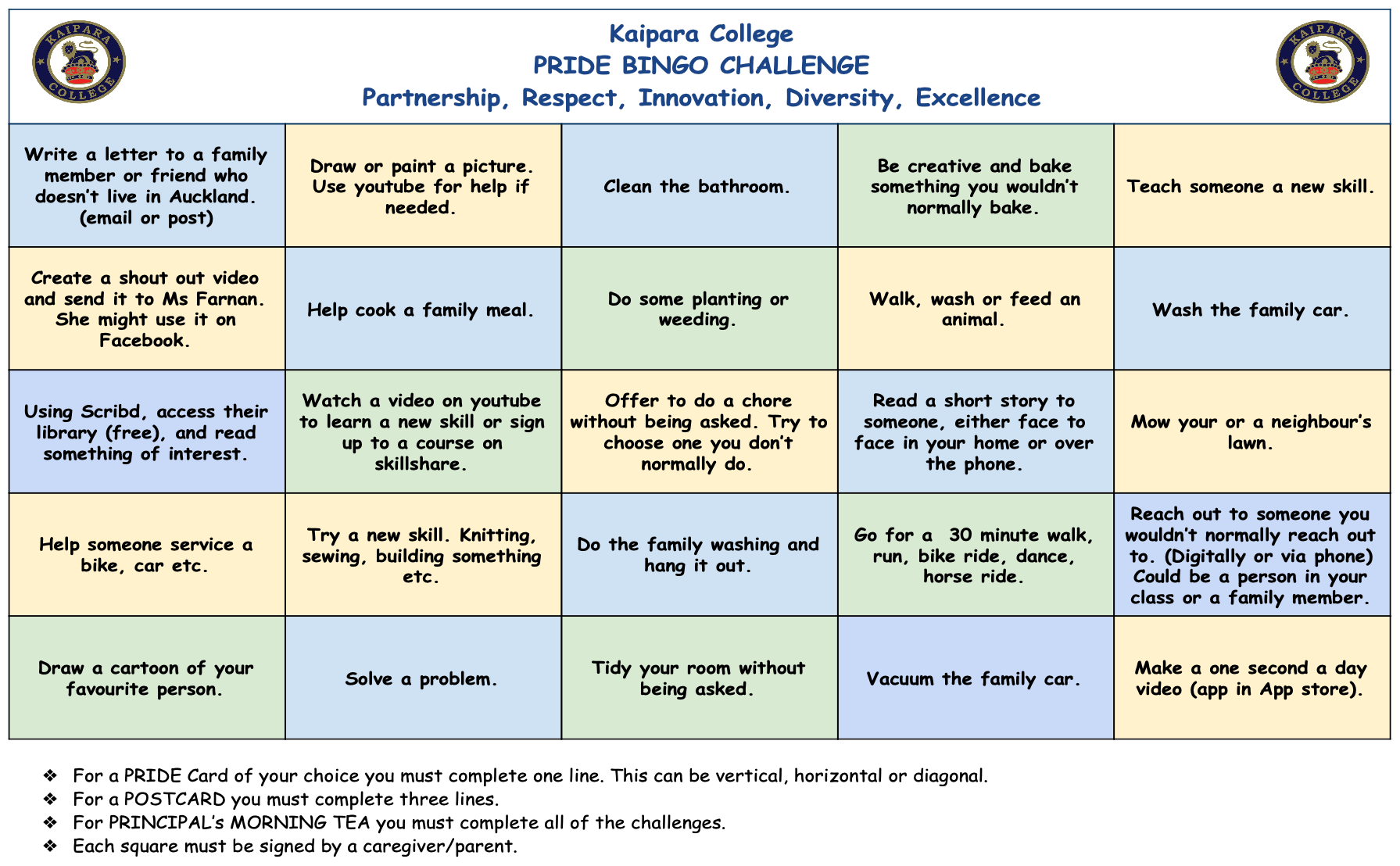 A message from our school nurses
The following message is from your friendly school nurses, Louise and Robyn.

We really hope you are all safe, happy and healthy in your bubbles! We miss seeing your faces each day, however we want to make sure that you know, we are still available for phone consults during the lockdown period.
We still have the ability to complete any referrals that we may feel appropriate, and to be a support for you all during this crazy time!
So please don't hesitate to phone, text or message via google hangouts and we will do our very best to help you.

Mā te wā,
Louise and Robyn
Thursday 26 March, 2020
Kaipara College Student Support Contact List during the
NZ Lockdown period
Below is a list of support services available to students, whanau and community members during the Covid-19 NZ Lockdown period. We want you to know that you are not alone during this very unusual and difficult time.
All names on this list have given permission for their email and/or phone details to be included. They want to hear from you if you need support or assistance.
The Kaipara College phone is not attended during the lockdown. During this period staff members may be contacted by email.
Please click on the below button to access the support services list.
Kaipara College Support Services Contact List 2020
Wednesday 25 March, 2020
Click here to see Principal, Steve McCracken vLog while closing down Kaipara College for the NZ Lockdown period.
Tuesday 24 March, 2020
Information from the Careers Department
For careers information, queries and updates please check the Kaipara College Careers Facebook page Careers at Kaipara College. Don't forget to like the page so you can get future update notification.
Mrs Bear is available by email for any careers queries at [email protected]
Monday 23 March, 2020
Kia ora e te whanau o Kaipara,
Thank you for your patience as we adapt to an ever evolving situation and the Level 4 COVID Alert as of Midnight Wednesday.
To summarise and provide you guidance:
Schools are now closed, except for students of essential workers for Tuesday and Wednesday. Please do not send your student to school if you are not an essential worker. A list of essential workers can be found here:

https://covid19.govt.nz/government-actions/covid-19-alert-system/
School buses WILL NOT run on Tuesday and Wednesday.
As of Midnight Wednesday, all schools will be closed.
School holidays are bought forward from 30 March to 14 April.
Learning until the end of this week will be through Google Classroom. Your students all have access to this.
After 14 April, a distance learning programme will be implemented for all students. We will communicate with you, via email, the finer details closer to that time.
For now, look after each other. Be creative, learn to cook, laugh, smile, and enjoy being parents and children. Most of all though, be safe. Follow the governments directive.
Thank you all for your support. We are looking forward to seeing everyone once we are safe to return to normality.
He aha te mea nui o te ao. He tāngata, he tāngata, he tāngata
What is the most important thing in the world? It is people, it is people, it is people.
Nga mihi mahana,
Steve McCracken
Principal
Share this article: