Read here to find out the latest information and updates from Kaipara College to our families, whanau and community.
FOR FURTHER INFORMATION, PLEASE CLICK ON THE KAIPARA COLLEGE COVID-19 VLOG UPDATES ON OUR HOME PAGE.
Friday 8 May, 2020
Principal Steve McCracken vLog


Monday 4 May, 2020
Student Leaders Updates






Friday 1 May, 2020
AN INTERVIEW WITH JIMMY CHENG (caught in Wuhan, China).
Jimmy Cheng is a Year 12 student at Kaipara College and lives with his family in Helensville. He is active in basketball and is well known amongst our school community.
In this interview Jimmy shares his experiences, observations and thoughts about being trapped in the world epicentre ( ground zero ) of the Coronavirus / Covid-19 pandemic.
Quite exceptional, well worth watching the whole video.
Thank you Jimmy for giving us permission to look into your experiences.
This phone interview was completed by 2020 head student Tyrone Brown. Thank you Tyrone for capturing such a valuable record of this moment in world history.


ANZAC Day Commemorations
Please enjoy these three videos devised and created by the 2020 Student Leadership team.
We Will Remember Them.
Lest We Forget.


Friday 24 April, 2020
Update to whanau from Principal, Steve McCracken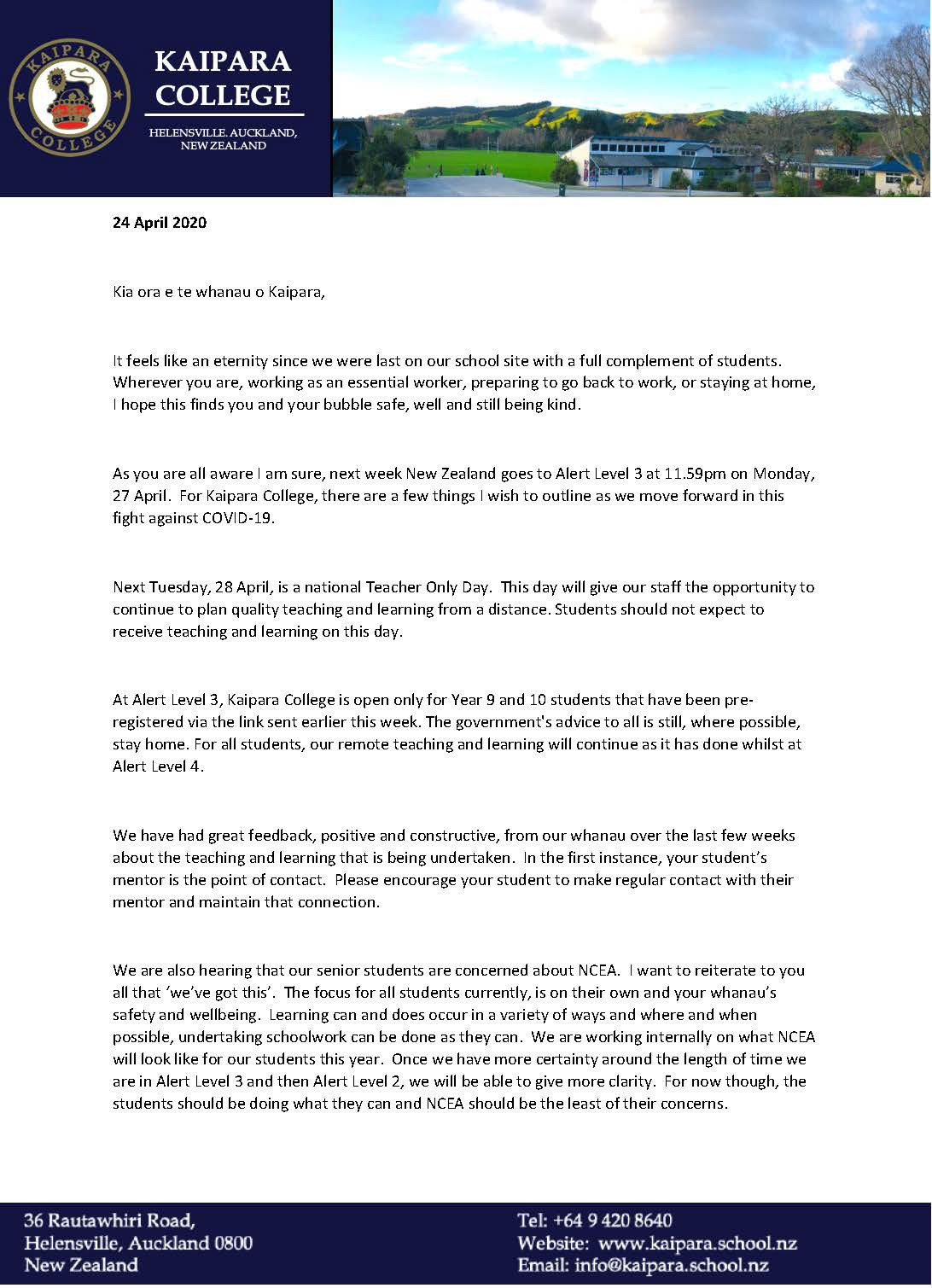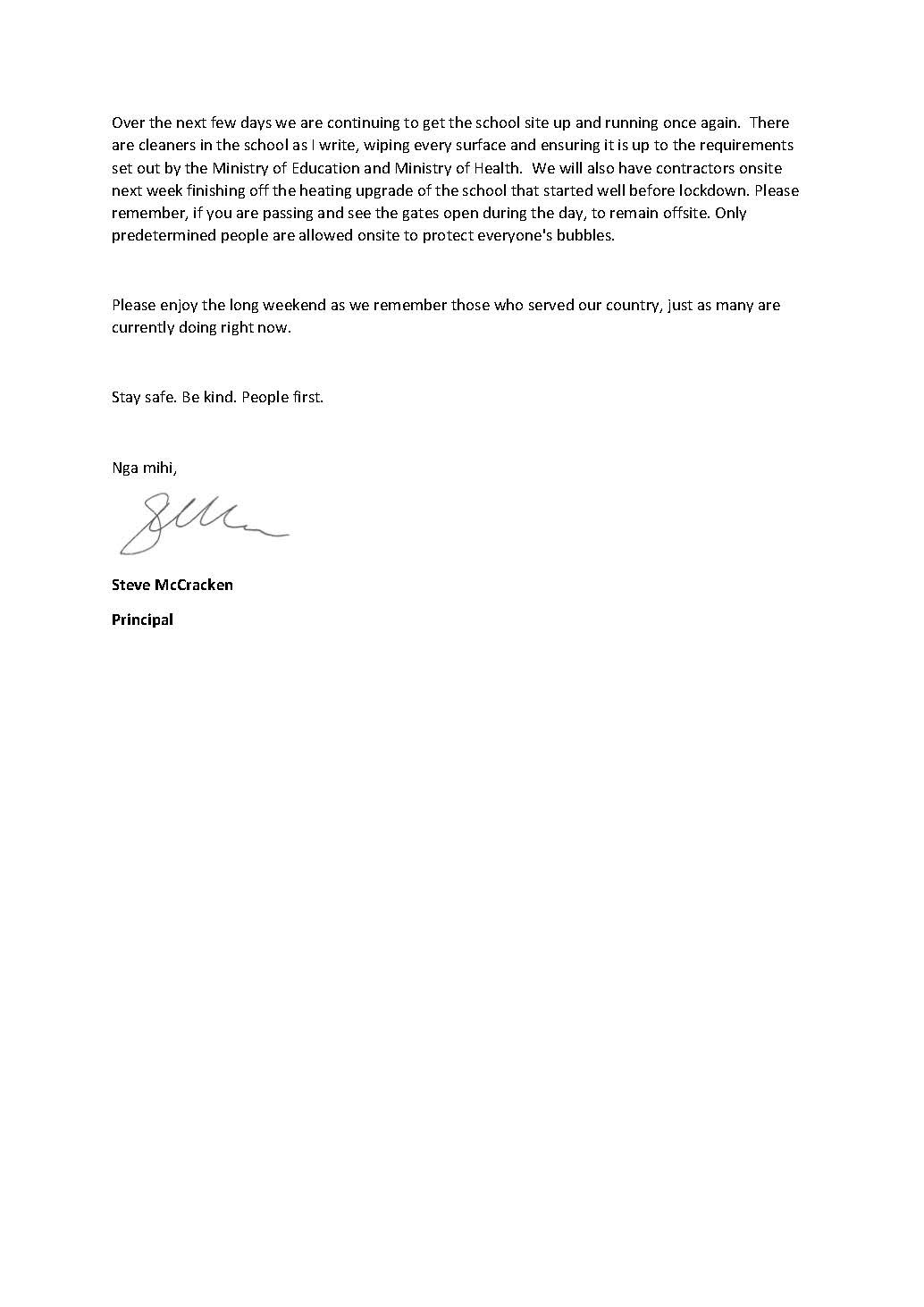 Thursday 23 April, 2020
Student Notices from our Student Leaders
Attached are the student notices from our amazing Kaipara College leaders .
Click here to watch the Student Notice 23 April, 2020


Wednesday 22 April, 2020
Kaipara College Transition to Alert Level 3
This presentation is for the students, families and whanau of
Kaipara College. It will attempt to answer the most common
questions about Kaipara College's transition to Covid-19 Alert Level
Click here to watch the Kaipara College transition to Alert Level Three video
Friday 17 April, 2020
Tāera a Kaipara
A positive project Tāera a Kaipara has been working on, is an online acknowledgement system. Staff are still looking to catch studentsbehaving positively in their online interactions and if they hear about positive interactions happening within their bubbles at home. Plus, receiving something positive from us, is always a boost. Especially at the moment!
We have designed some digital PRIDE card GIFs (animated virtual stickers) which can be sent to students via email, google classroom or any other platforms students are working with. Just a feel good reinforcement to brighten everyones' day. These can still be used at the Tāera a Kaipara shop when school physically reopens.



Thursday 16 April, 2020
Principal, Steve McCracken letter to family and whanau regarding any possible move from Alert Level 4 to Alert level 3.
Please click on the below button to read Mr McCracken's letter to family and whanau. This letter outlines the preparation taken to date by Kaipara College in preparation for any possible level move.


Thursday 9 April, 2020
Covid-19 Support Resources for South Kaipara Families
Covid19 Support Resources 2020
A number of different local agencies have pulled together to provide a support resource for all South Kaipara families as they navigate through these challenging times. We encourage you to open this and access any of the services and resources as you and your whanau need.
The resource content includes:
1. Covid-19 Response
2. How to keep calm when reaching boiling point
3. Plan to keep yourself and kids safe
4. Activities for kids at home
5. Process of working through anxiety
6. Financial support
7. Services available
Kaipara College student support services would like to acknowledge the work that community partners have made in supporting our students, family and whanau, and staff through the Covid-19 pandemic. Thank you Kia Timata Ano Trust, Family Action, Helensville Women and Family Centre, Man Alive and RESPECT.
please click on the link to open.
Covid19 Support Resources 2020


Tuesday 7 April, 2020
Principal Steve McCracken hits the airwaves!!
Hear his interview about NCEA and learning during this lock period. Thanks so much to Brent and Jacque from More FM Rodney
Principal, Steve McCracken interview with More FM Rodney




Monday 6 April, 2020
Letter to all parents about NCEA from Principal's Nominee - Ms Farnan
Kia ora koutou,

I'm writing this email to you as the Principal's Nominee to NZQA for Kaipara College. This means that I am responsible for all NCEA-related assessment at our school. I know that many of you are worrying about the impact that this COVID-19 lockdown may have on your ability to earn Level 1, 2, or 3 NCEA, Literacy, Numeracy or University Entrance. I want to reassure you that everyone involved in supporting your education this year, from your classroom teachers through to NZQA and the Ministry of Education (MOE), is already putting in place systems and processes to ensure that your pathway is not compromised because of the interruptions of the pandemic and resulting lockdown.

Right now, the most important thing you can do is relax and enjoy the holidays so that you are rested and ready to learn once we return to school, whether that is in person or online. For now, assessment should not be your focus. Behind the scenes, there are many people working at all levels (school through to NZQA and the MOE) to ensure that you will have what you need to still have a successful year. One of the strengths of NCEA is its flexibility which means that if the lockdown continues past four weeks, we can still ensure that internal assessment will take place and that should external exams be compromised, we can gather evidence that you have met the external standard(s) as distance teaching and learning happens. This will be done using different processes provided to us by NZQA. These are not actually new processes for New Zealand as they were successfully used after the Christchurch and Kaikoura earthquakes and meant that students were still able to continue on their pathway to Year 12, 13 and university, despite the interruption to their learning.

To reassure you further, this quotation is from an email that Mr McCracken and I received this morning from the Ministry of Education and NZQA: "Work is also underway to make sure that all qualifications, awards and pathways (including University Entrance and Vocational Pathways) will remain available through any disruptions."

We understand that some of you will be feeling frustrated and uncertain, but please know that, while NCEA might look a little different this year, you will still have the opportunity to earn what you need to move forward on your education pathway.

Ngā mihi,
Ms Farnan


Tuesday 31 March, 2020
Kia ora everyone and we hope you are settling into routines with those in your bubble. Below is the PRIDE Bingo challenge for Kaipara College students. Other whanau members are welcome to attempt this as well.
Simply complete each task over the next few weeks and tick off on your sheet. It's that easy and we think it will be a whole lot of fun.
How about take the challenge just a little further and video yourself completing each task? We may even put your videoette onto the school FaceBook page. If you would like to do this then send your videos to [email protected]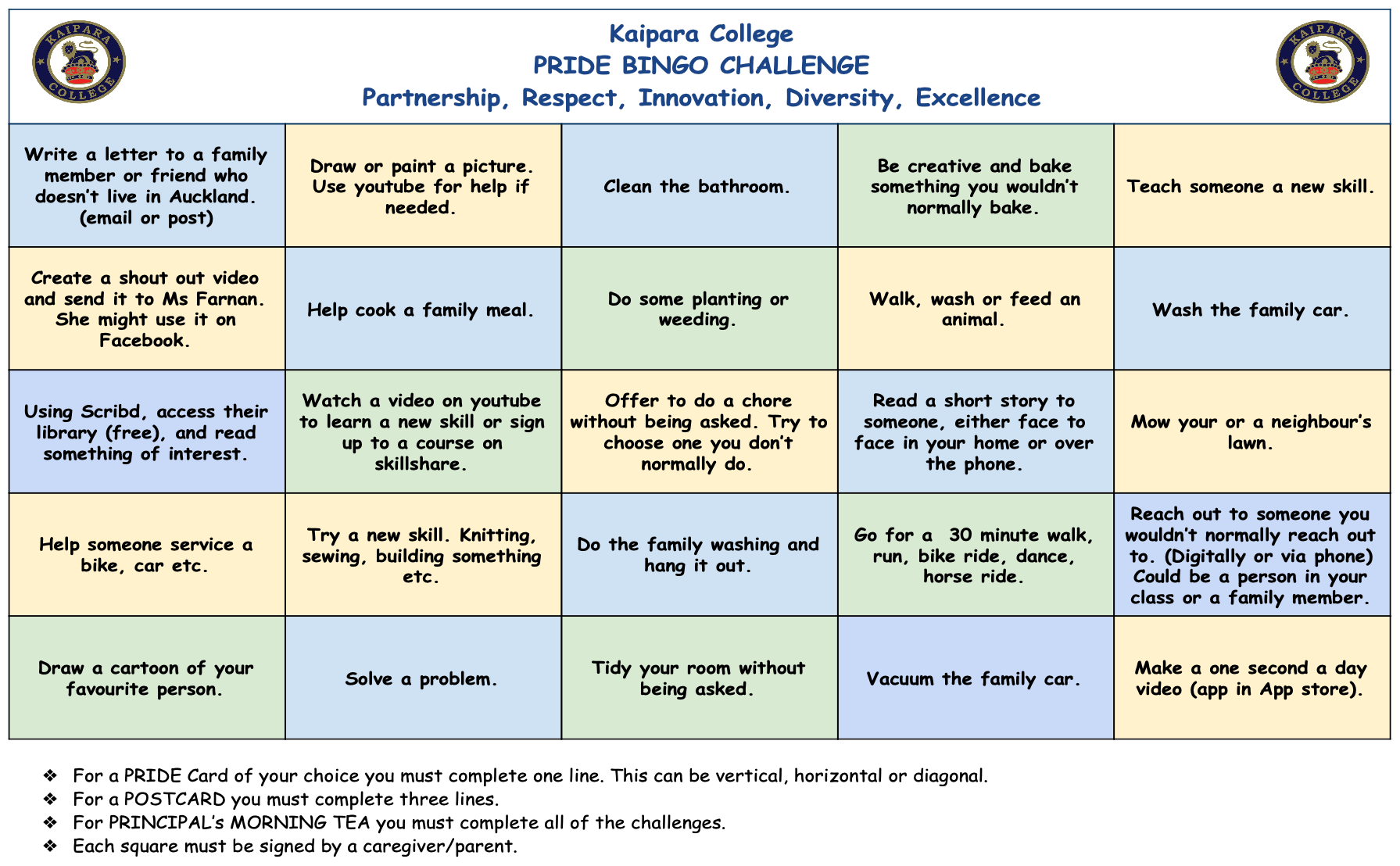 A message from our school nurses
The following message is from your friendly school nurses, Louise and Robyn.

We really hope you are all safe, happy and healthy in your bubbles! We miss seeing your faces each day, however we want to make sure that you know, we are still available for phone consults during the lockdown period.
We still have the ability to complete any referrals that we may feel appropriate, and to be a support for you all during this crazy time!
So please don't hesitate to phone, text or message via google hangouts and we will do our very best to help you.

Mā te wā,
Louise and Robyn






Thursday 26 March, 2020
Kaipara College Student Support Contact List during the
NZ Lockdown period


Below is a list of support services available to students, whanau and community members during the Covid-19 NZ Lockdown period. We want you to know that you are not alone during this very unusual and difficult time.
All names on this list have given permission for their email and/or phone details to be included. They want to hear from you if you need support or assistance.
The Kaipara College phone is not attended during the lockdown. During this period staff members may be contacted by email.
Please click on the below button to access the support services list.
Kaipara College Support Services Contact List 2020


Wednesday 25 March, 2020
Click here to see Principal, Steve McCracken vLog while closing down Kaipara College for the NZ Lockdown period.
Tuesday 24 March, 2020
Information from the Careers Department
For careers information, queries and updates please check the Kaipara College Careers Facebook page Careers at Kaipara College. Don't forget to like the page so you can get future update notification.
Mrs Bear is available by email for any careers queries at [email protected]
Monday 23 March, 2020
Kia ora e te whanau o Kaipara,
Thank you for your patience as we adapt to an ever evolving situation and the Level 4 COVID Alert as of Midnight Wednesday.
To summarise and provide you guidance:
Schools are now closed, except for students of essential workers for Tuesday and Wednesday. Please do not send your student to school if you are not an essential worker. A list of essential workers can be found here: https://covid19.govt.nz/government-actions/covid-19-alert-system/
School buses WILL NOT run on Tuesday and Wednesday.
As of Midnight Wednesday, all schools will be closed.
School holidays are bought forward from 30 March to 14 April.
Learning until the end of this week will be through Google Classroom. Your students all have access to this.
After 14 April, a distance learning programme will be implemented for all students. We will communicate with you, via email, the finer details closer to that time.
For now, look after each other. Be creative, learn to cook, laugh, smile, and enjoy being parents and children. Most of all though, be safe. Follow the governments directive.
Thank you all for your support. We are looking forward to seeing everyone once we are safe to return to normality.
He aha te mea nui o te ao. He tāngata, he tāngata, he tāngata
What is the most important thing in the world? It is people, it is people, it is people.
Nga mihi mahana,
Steve McCracken
Principal
Share this article: