---
It has never been more challenging for parents to raise happy, healthy and resilient children.
Like never before, parents need to be informed with clear, fact-based information on the many challenges faced by today's youth. Topics such as youth anxiety, depression, self-harm, drug and alcohol use, cyberbullying and many others need clear explanation and guidance.
SchoolTV is a new ongoing resource that is now available to our parents. Each edition will address a major topic with expert interviews, fact sheets, parent quiz, recommended apps, books and much more. SchoolTV aggregates information from many great resources such as BeyondBlue and ReachOut, amongst others. SchoolTV provides a single stream of independent factual information that saves parents time and confusion of searching online across multiple sites for information.
Kaipara College endorses these webinars as they are relevant to parents, family and whanau. At this time the material found on School TV is Australian content. However there are many links to New Zealand content.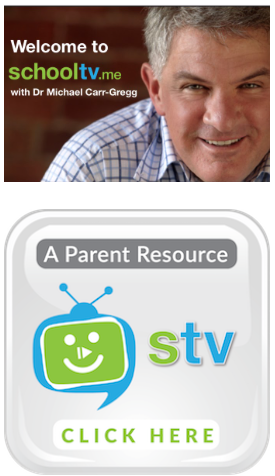 click here to explore all School TV content
THIS MONTH'S THEME: SCHOOL TRANSITIONS
"This is a particularly stressful period for both parents and children and it tends to get trivialised. Parents can often transfer their stress onto their child making transitioning unnecessarily more stressful." ~ Dr Michael Carr-Gregg
This month we will be focusing on the transition for our community's year 8 primary students to becoming a year 9 student at Kaipara College. SchoolTV has developed a powerful suite of videos, interviews, research and other support material help students and their families through this time.
Note: At Kaipara College, we consider this material as relevant and important to our community. Any reference to Year 7 children
translates to directly to NZ Year 8 students. SchoolTV is working with New Zealand recognised authorities in regards to introducing
New Zealand specific content.
Please click below to view SchoolTVs SCHOOL TRANSITIONS content