---
It has never been more challenging for parents to raise happy, healthy and resilient children.
Like never before, parents need to be informed with clear, fact-based information on the many challenges faced by today's youth. Topics such as youth anxiety, depression, self-harm, drug and alcohol use, cyberbullying and many others need clear explanation and guidance.
SchoolTV is a new ongoing resource that is now available to our parents. Each edition will address a major topic with expert interviews, fact sheets, parent quiz, recommended apps, books and much more. SchoolTV aggregates information from many great resources such as BeyondBlue and ReachOut, amongst others. SchoolTV provides a single stream of independent factual information that saves parents time and confusion of searching online across multiple sites for information.
Kaipara College endorses these webinars as they are relevant to parents, family and whanau. At this time the material found on School TV is Australian content. However there are many links to New Zealand content.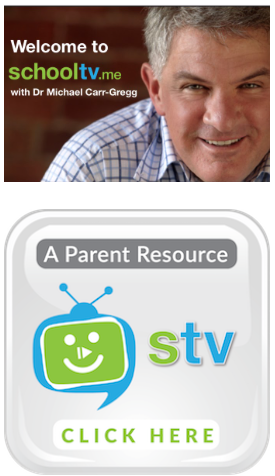 click here to explore all School TV content
THIS MONTH'S THEME: SURVIVING YOUR FINAL YEAR
"Students in their final year are considered a high-risk group for depression and anxiety. Sleep deprivation, diet and social media are some of the biggest issues faced by this group of teens." Dr Michael Carr-Gregg
Every year, the media exposes us to the hype and pressure relating to the final year of secondary school. However, putting things into perspective for students and parents alike, can help prevent everyone getting overwhelmed. Although this final year is important, it will not be the most important year of your child's life. It is crucial for parents to reinforce the mantra of 'you are more than your NCEA result'.
A student's performance in final year is only a point in time measured by their ability to sit an exam. If the desired NCEA result is not achieved at the end of the day, there are other options available to your child. It will not define their happiness. There will be many other pathways available to them to help them reach their goals.
Please click below to view SchoolTV's SURVIVING YOUR FINAL YEAR content