Senior Exam Week
Senior Exam Week 2019
The Kaipara College senior exam week will take place from Monday 26 to Friday 30 August.
Please note that due to senior exams there will be no senior classes during this week.
For more information, please scroll below the timetable.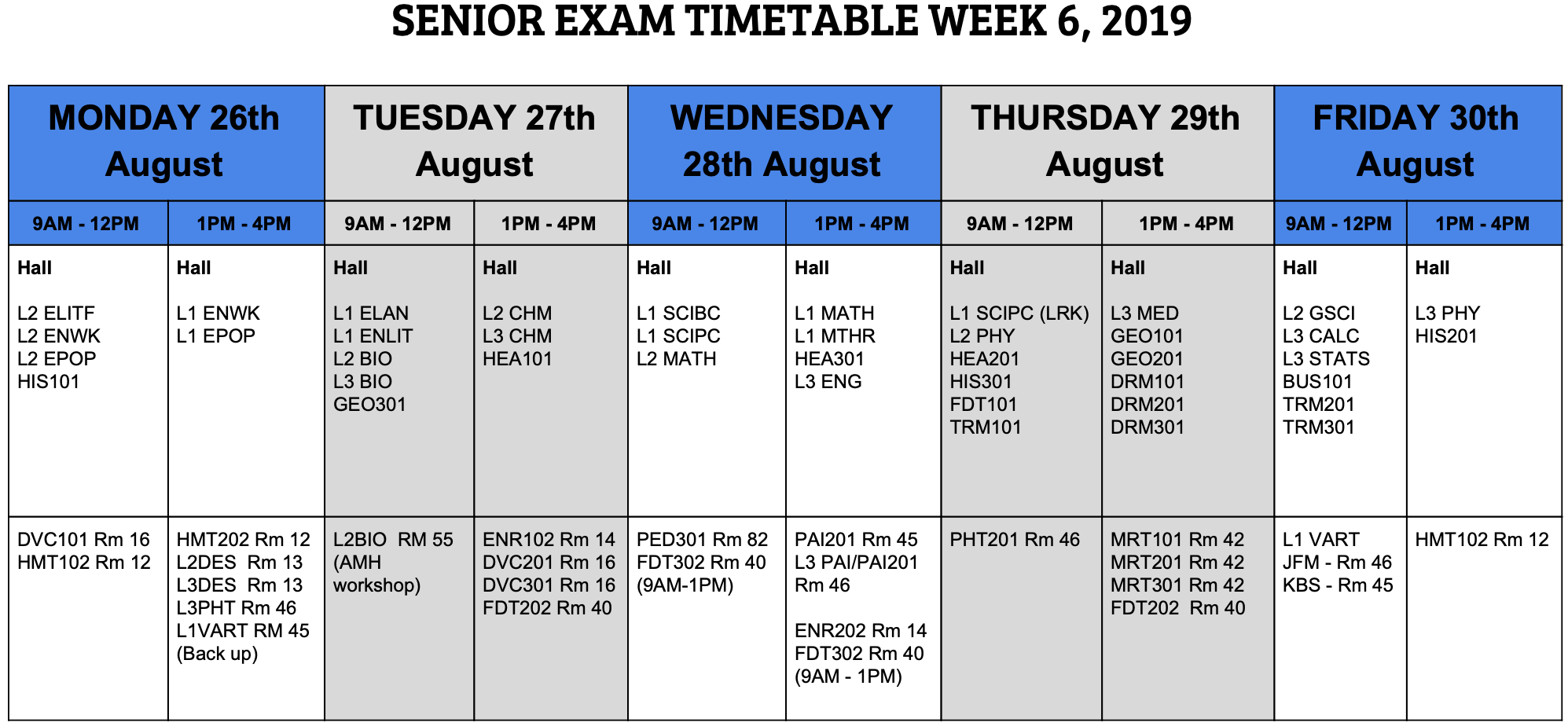 Please read on:
In order to ensure the examination week is a valuable and productive experience for all involved the following rules will apply to all senior students during exam week:
 On the day of the exam -You will be in full uniform.
 Arrive at least 20 minutes before the exam starts to find out the location of the exam room arranged by the school, 8.40am.
 If a student arrives more than 30 minutes after the exam has started they will not be able to sit the exam or enter an exam room.
 You will line up in your subject class in the driveway outside the drama room by 8.40am in order to get everyone into the hall on time.
 Bags will be left at the rear of the hall when entering.
 Phones must be switched off and left in your school bag.
 Phones cannot be used as calculators.
 You will not be able to leave the examination without permission.
 If you need the bathroom raise your hand and wait for permission.
Exam materials
Students are responsible for taking the correct equipment to the exam and making sure
that it is working.

Bring equipment into the exam room in a clear plastic bag. Students can bring:
 pens (black and blue colours are permitted) pencils and an eraser
 an approved calculator for subjects where a calculator has been used during the year.
Calculators must be silent, hand-held, non-printing and work from their own power. Students cannot keep notes, routines or store files in the calculator memory. Teachers or supervisors will check the calculator memory is cleared before it can be brought into the exam room.
Emergency evacuation and student pack
Students are allowed to bring items for an emergency evacuation into the examination room in a clear, sealable plastic bag. This pack must stay under the chair and not be touched or opened without the permission of the supervisor. Contents could include a mobile phone (switched off) or other electronic device, keys, money, bus pass and medicines.
Banned items
Do not bring the following items into an exam room unless sealed in the emergency evacuation pack:
 blank paper or refill paper
 correcting fluid
 books, written notes or electronic notes
 cell phones or pagers
 smart watches
KAIPARA COLLEGE SENIOR EXAM NZQA RULES AND STUDENT EXPECTATIONS
 English dictionaries, foreign language dictionaries, or te reo Māori dictionaries or translators
 any electronic device which has the capability to store, communicate and/or retrieve information except approved calculators.
In the exam room
 At all times, listen to and follow the instructions of the supervisor.
 Sit at the desk allocated. The exam booklets at this desk will have been selected and coded specifically for the individual student.
 Check all the answer booklets have the student's NSN and Examination Code on them as listed on their Admission Slip.
 When told, students should check that all pages in each exam booklet are printed correctly.
 If a student has any problem, they should put their hand up.
 Please note, in the practice exams, you are required to stay for one hour per paper that you are entered for.
During the exam students should
 not borrow equipment from someone else.
 not talk to, communicate with, or do anything to disturb other students.
 not read or copy another student's work.
Writing answers students should
 follow all the instructions on the front cover of the exam booklet.
 use only black or blue pen.
 not write in pencil unless instructed to do so. Work in pencil or erasable pen will not be accepted if a student applies for review or reconsideration.
 write neatly, so the marker can read the answers.
 cross out any work they do not want marked.
 not write or draw anything that may be regarded as offensive.
 not write to the marker or write in the part of the answer booklet "For assessor's use only".
 not write answers for one standard in the answer booklet for another. Where they fill up their answer booklet, they may request extra paper.
 fill in their details at the top of any additional sheets of paper provided and put them inside the answer booklet.
 When the exams allocated time has finished you will be dismissed by a teacher and you will leave quietly.
When you have finished your exam you are to go home immediately or find somewhere to work quietly.
All students entering the school for "workshops" must sign in at the student centre.
If you have an exam clash you should have already informed your subject teacher and Mr Hardy.