School Production
School Production • Arts & Culture • Kaipara College
Each year Kaipara College present one full school production. The production is an opportunity for all students across the school to experience the joys of live performance, to particpate according to their strengths and passions. As a performing arts department we collaborate, students and staff alike, to select a production our community sees as relevant to us, to lead in the acting, choreography, music, sound and lighting design and management, prop and set design.
Our success is driven by our students ownership in all they choose and do on the stage.
Jack and the Beanstalk - The Pantomine
Tickets are now available from the student centre for the Kaipara College season of Jack and the Beanstalk. The season is from Wednesday 26 to Friday 28 June.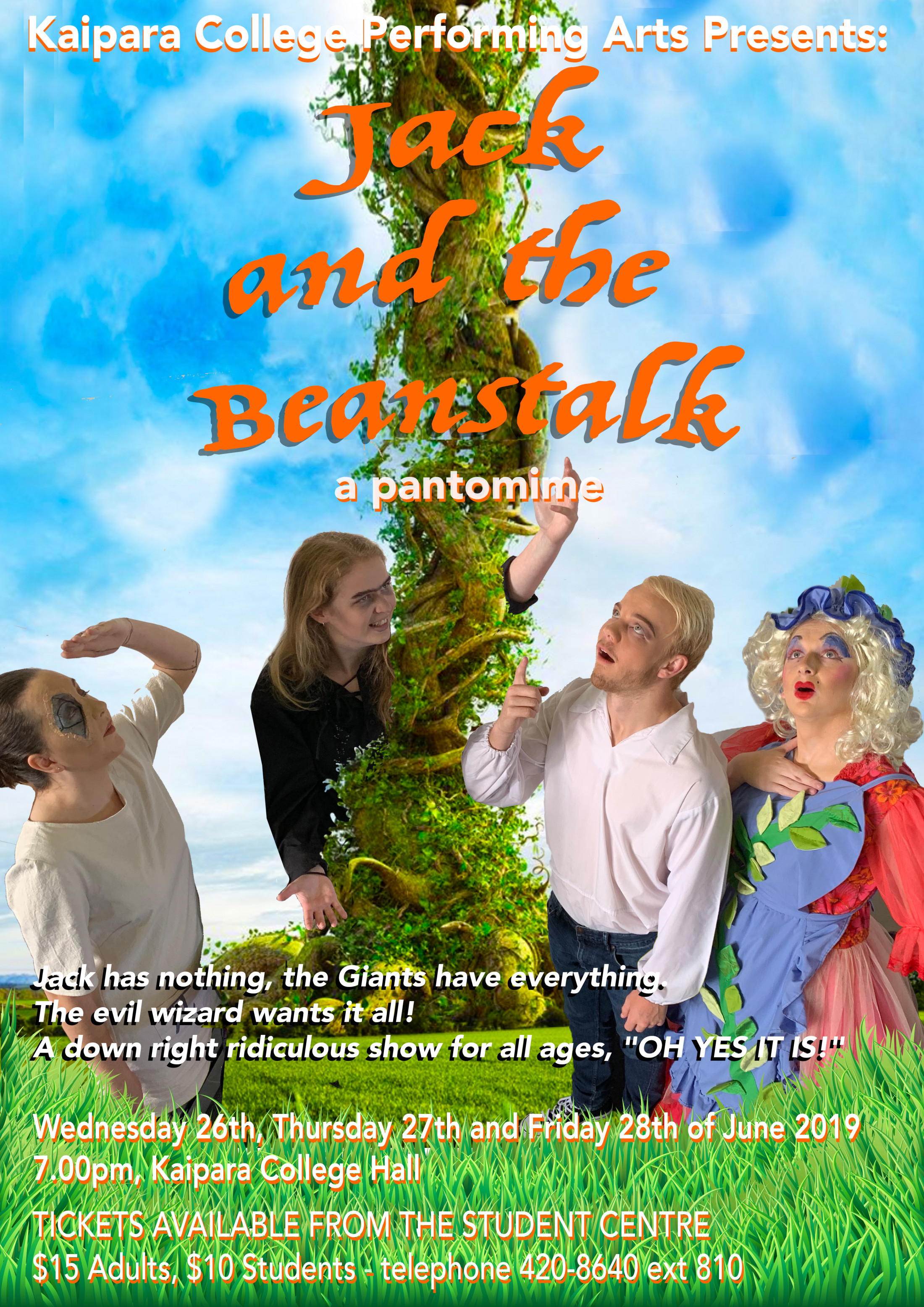 Kaipara College is taking another leap into the unknown in 2019 by selecting a pantomine for it's school production. This year we will be presenting Jack and the Beanstalk - the Pantomine co written by our very own Mr Stephen Lunt. Casting is now complete and are listed below. Congratulations to all who audtioned and we look forward to the fun and challenges leading up to the first show.
Cast
Jack -

Sam Stenning

Giants: Hank -

Andre de Beer

Dick -

Ethan Payn

Tyler -

Angus Fletcher

Mother Hubbard -

Tobias Mallett-Biggs

Nigel -

Nathan Parker

Jill -

Emily Gunston

Cheerleaders: Paris -

Ruby Williams

Maudlin -

Rose Bronlund

Roma -

Daisy Hart

Julie -

Ruby Johnston

Da'Ville -

Poppy Tippett

General -

Chris Rowe

Goldie -

Regan Neville

Heathcliffe -

Josh Masterton

Harpie -

Grace O'Brien

Puppet Frank -

Lukas Faulkner

Daisy Cow -

Destiny Hillman + Aria Perris

Puppet Albert -

Ben Olsen
Village Folk/Ensemble
Trader Bob -

Liam Renwick

Kathy -

Melody Gray-Hohepa

Trader Molly -

Lucy McConnell

Mad Susan -

Harry Daniel

Trader Sam -

Morgan Dean

News Urchin -

Micah Millett

Trader Joe -

Jess Smith

Phyllis the PPP -

Sammy Kay

Trader Chris -

Gemma Bayley

Mrs Olivier -

Jasmine Gunton

Trader Max -

Kate Larsen

Village Idiots -

Becky Pawley, Emma Welch, Jake Black-Hyland

Trader Les -

Kelly-Jean Moki

Trader In -

Latesha Southern Vasey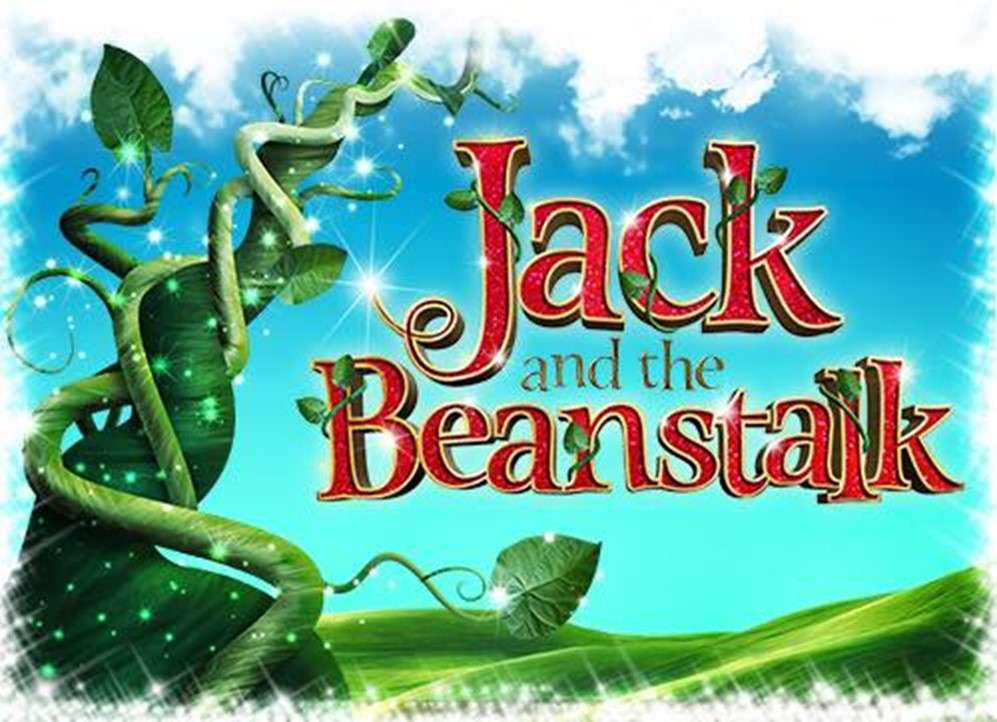 AVENUE Q the musical.
Meet the of our characters from the 2018 Kaipara College production of Avenue Q. All puppets were made by year 13 students Niamh Read-Hayes and Rosie Roud Cochran.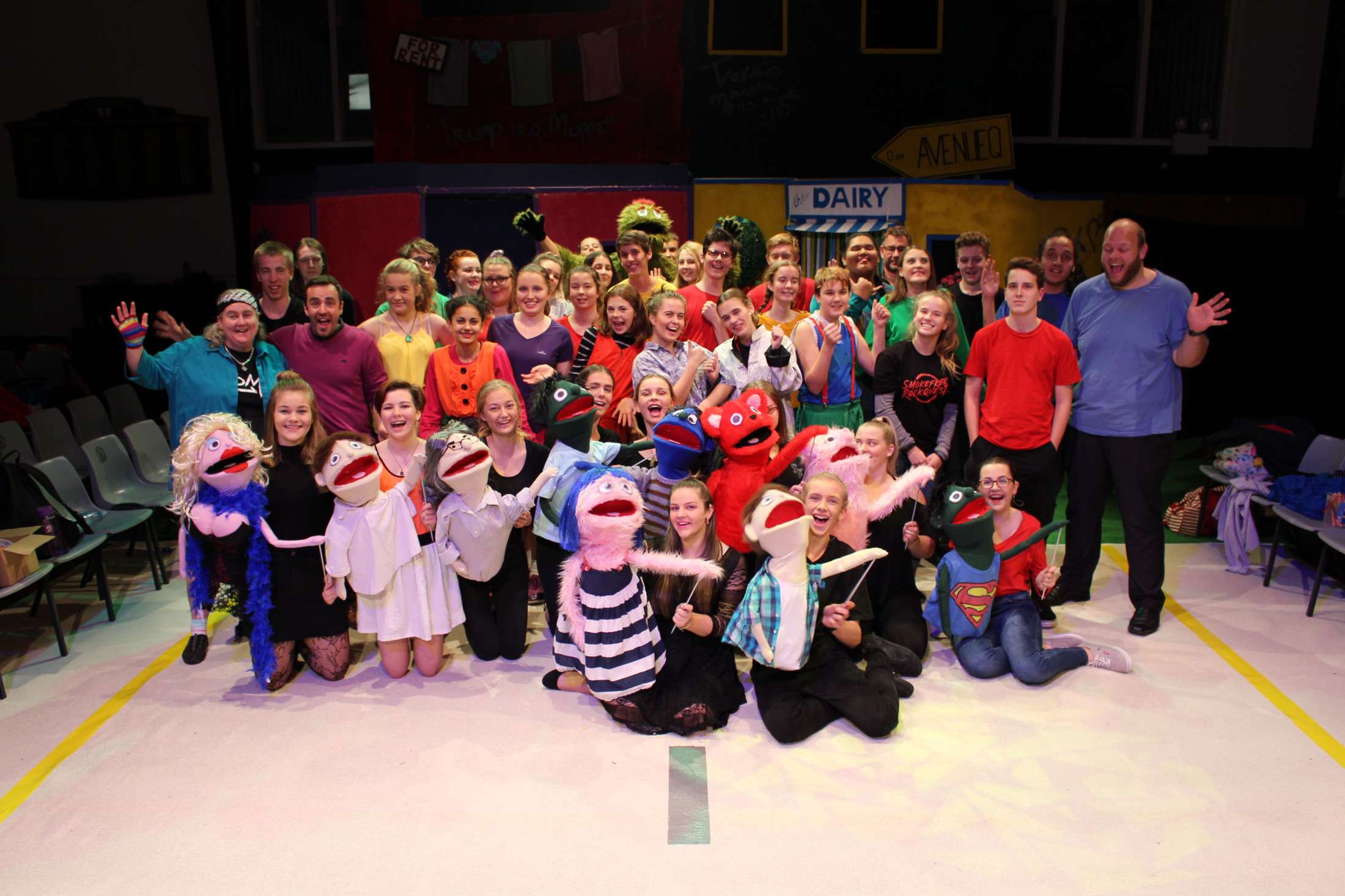 Rock of Ages
Rock of Ages was Kaipara College's first musical in nearly two decades. In 2017 the Music and Drama department joined forces and became the Faculty of Performing Arts. As part of the creation of this new faculty we undertook our first musical. The production had nearly 60 students and 10 staff and performed to a near full house throughout its season.
The production was also acknowledged by the judging panel of the iTicket Showdown awards, being nominated for three awards and winning two categories.
The winners were Taine Ngatai for best solo performance as rock and roll hero Stacee Jaxx and Greg McLarin (teacher) for musical directorship. Well done.