Student Leadership
Student Leadership • About Us • Kaipara College
The student leadership comprises of twelve to sixteen year thirteen students who have been selected by the full school roll and staff. They represent, through affirmative leadership and role-modeling, the school's PRIDE values. Student Leaders focus on the continued improvement of school life for students and lead the way in creating new and challenging opportunities that encourage student participation and development.
It is assumed that to be a student leader, one has shown leadership throughout their time at Kaipara College and will lead the student body throughout the school year.
Student Leadership operates witihin a high trust model and encourage student agency.
In 2020, the student leadership will comprise of fourteen year thirteen students. They will operate in a council-like format with general responsibilties and specifc committee membership. These are; Arts and Culture, Sports, Academic and Community. Within these committees the student leaders work on specific projects alongside other students from all year groups.
2020 Student Leaders announced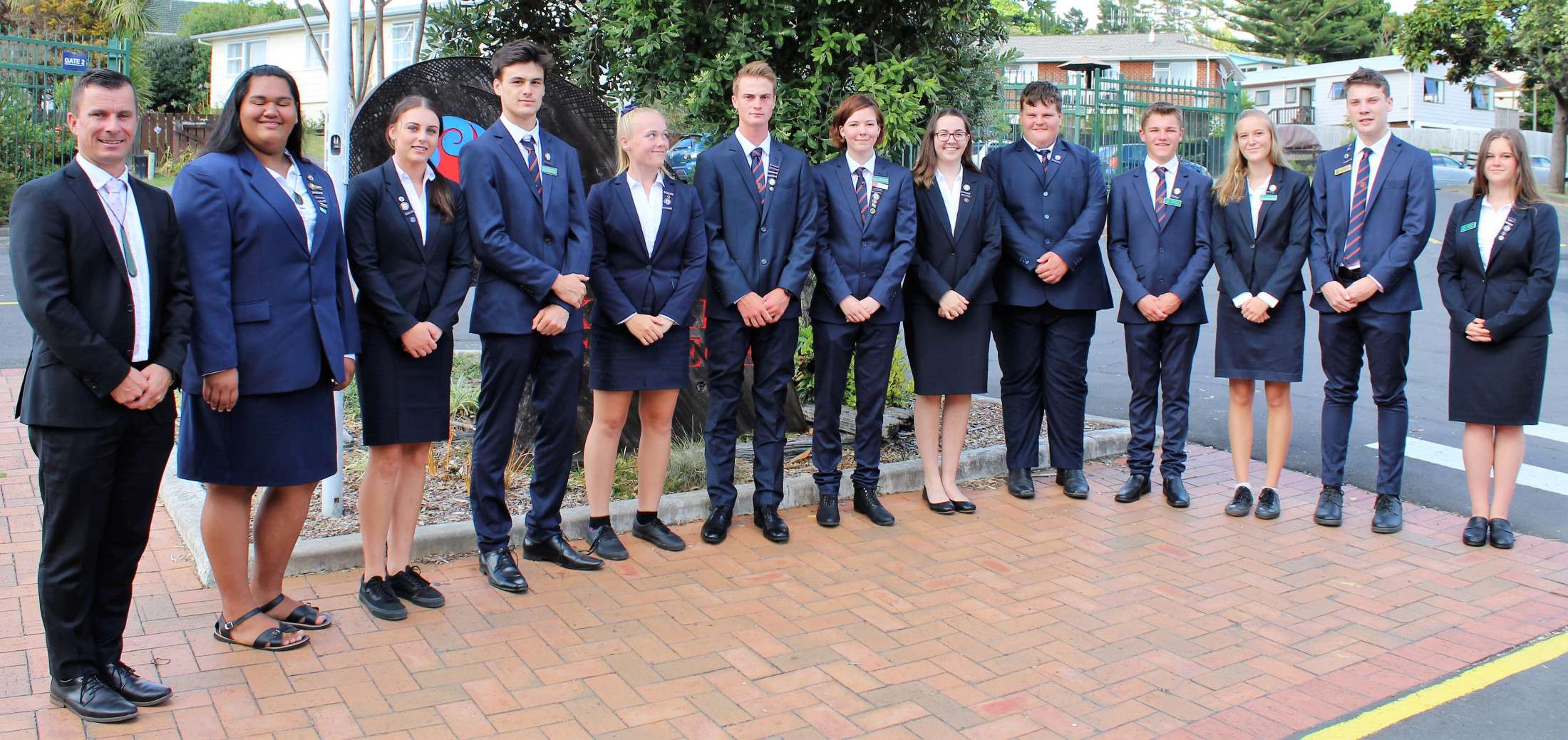 ( absent: Angus O'Sullivan, Danielle Binks)
The student leadership team for 2020 were announced at the Kaipara College Senior Academic Prize giving on Thursday 31 October, 2019. The student leadership team is:
Head Students: Tyrone Brown
Olivia Simpson
Odette Sullivan-Yates
Eruera Wilkinson
Student Leadership Team: Hazel Everard
Jeremy Houghton
Caitlin Kay
Ben Olsen
Trae Oxborough
Theo Smales
Dylan Southern
Max Teuruaa
Krystal Tuigamala
2021 Student Leadership Selection Process
The 2021 Student Leadership group will be selected through a democratic and inclusive process. Ideally there will be twelve to sixteen students selected for the 2021 Student Leadership group. It is the college's goal that the process is thorough and transparent and that all students have a fair and equal opportunity to be selected into the Student Leadership group.
Term II 2020
Year twelve students invited to inform 2020 Student Leadership, or the deputy principal in charge, of their interest in being part of the 2021 Student Leadership. Invitation will be given through two assemblies and daily notices.
2020 Student Leadership and staff will be given the list of those interested, to observe specifically for leadership qualities and activities.
All year twelve students are invited to join the Year 12 Leadership group at any time. The group is given one significant task to address. The task for 2018, as an example, was the reintroduction of a house system in 2019. The reintroduction of school Houses has been deemed a success with a solid foundation set for following year. Students were observed for their team and leadership qualities. These qualities will include task leadership, planning, communication, solution focused team work, creativity, appropriate behaviour and more.
A task for the 2021 Student Leadership will not be set until term two of 2020.
Term III 2020
Year 12 Leadership Group agree on common campaign 'vehicles' for all students interested in being 2021 student leaders. The final 'vehicles' may include posters, lunchtime meetings, website space and/or other.
Call for self-nomination of candidates for 2021 Student Leadership.
Candidates given nomination form and guidelines for campaigning including the agreed campaign 'vehicles'.
Voting process to be completed. All students, including 2020 Year 13s, and staff may vote.
Voting counted and kept confidential, except for between senior leadership group.

Term IV 2020
Six to eight students selected for interview by the senior leadership group.
Head ( and deputy head ) students finalised.
Final 2021 Student Leadership group selected.
2021 Student Leadership group announced at senior academic prize giving.